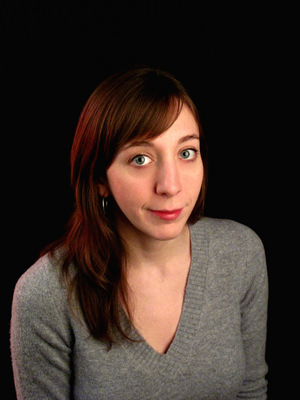 Katherine Mangu-Ward is managing editor of Reason Magazine and Reason.com. After brushes with old-style journalism and a behemoth paper of record, Katherine says that the journalism industry is changing.
Katherine's "one and only brush with local journalism" was at The Alexandria Gazette the summer between high school and college. "They had this amazing old style copy system with rickety, rickety old computers," which she says she used to type up the police blotter, wedding announcements, and the neighborhood columns "that were submitted by little old ladies by hand."
For a couple of years, Katherine worked as a researcher for John Tierney, an op-ed columnist for The New York Times. She says this was a "great look into how a big, old paper of record functions."
The biggest take away is really is that is a huge, unwieldy bureaucracy. I was in DC, but even the DC office has this sediment of humanity that accumulates around the people actually doing the actual work of journalism. Of course you need some of those people, but there is a reason that the age of the newspaper is over, and that is because they are just not adapting.
She began to realize the future of journalism and the need to adapt, when she interned with Reason in college. At Yale University, where she double majored in political science and philosophy, she worked on an independent paper called the Yale Free Press, which was funded by the Collegiate Network. Through that connection, she was placed at The Weekly Standard by the Collegiate Network for a year-long fellowship.
In 2006, when she moved to Boston, Katherine says she "needed a portable job." She reached out to Reason's then-Editor-in-Chief, Nick Gillespie to catch up and pitch a freelance piece. She left that meeting with the job at Reason.
It was a total stroke of luck. I always loved Reason. Working here is like ideological golden handcuffs – it doesn't pay well, but it's amazing to get to write exactly what you think all the time.
Collect internships and article clips.
Katherine says that what she has learned is that most of the conventional wisdom in journalism doesn't apply anymore.
A lot of young journalists who are seeking advice from older, really experienced journalists get the same advice, which is "go, work for a local paper, cover fires, cover dogs stuck in trees, and then work your way up"… I don't think that advice applies anymore. It's not true that that's the best way to wind up as a reporter at The New York Times, if that's what you want to do.
Particularly for people who want to participate in the new forms of journalism, that old-style advice is out of date. For people who want to be an opinion blogger, or an internet personality, or have a popular podcast, or anything in that vein, working as a beat reporter "and being miserable in some small town somewhere for a couple years isn't a good way to do that."
This is because modernization, such as technology, has changed the way to be successful in most industries.
It use to be, as in so many things, there was a very clear hierarchy, and you win when you are at the top of the pile. And now there are lots of little piles, and there are lots people consuming media in different ways.
There is one piece of "conventional wisdom" that Katherine believes still rings true. Get a couple of internships, she says, "people have got to know who you are." She says you should identify the little pile you are interested in sitting on top of and go there. You have to "go where you want to go."
For those young people, internships are invaluable because they are a great way of "getting a couple pity clips." Clips, she says, are necessary when it comes to applying for a journalism job or internship, "it almost doesn't' t matter where they are from." If you are a student, she advises you write for one of your college papers. "If you can put a sentence together, you can get into your college paper. If you can't put a sentence together, then you probably shouldn't be a journalist. So either way, it's a good test."
These are important because when you applying for "that first, first job, no one expects you to have a hit in The New York Times, they just want something to show that you can write."
Katherine says there is no certain or guaranteed way to get a job at somewhere like Reason, but says that interning at and writing for Reason is the closest thing to a guarantee. "Right now, Reason is hiring," she says, "and one of the places we have gone in looking to build an applicant pool is our interns for the past few years."
Making friends and follow through with them.
Another thing young people should be doing when they are looking for a job or internship in Washington, DC, is make friends at events such as those hosted by America's Future Foundation (AFF).
When I first moved to DC, I lived in a building that housed the very beginnings of AFF, and AFF helped lock in friendships with people my age who were pretty useless interns and underlings back then—just like I was—but have grown into legit professional connections now.
Because Washington, DC, is a "happy hour culture," she says, "my advice to young people is go to happy hours… and make some actual friends."
Going to happy hours, and going to the I-can't-believe-there-is-another-one panels on whether or not conservatives and libertarians can be friends, or whatever – that's not stupid. That's actually a good way to get to know people who are going to be relevant to you. Try to make friends with people who are a couple of years older than you, and then send them pitches.
Following through with these new friends is what makes your education and your internships pay off. She says that most people she meets as such events, and asks them to send her pitches, never do.
A final piece of advice from Katherine.
Read fiction while you are young.
When I was 15, I read The Fountainhead. Reason contributor Jerome Tucille wrote a book called It Usually Begins with Ayn Rand and I was absolutely in that clichéd mold. I spent a summer reading everything that Ayn Rand wrote. I was completely insufferable, as sometimes happens in these cases.
Being well-read will teach you to think differently, to accept different possibilities. Practically speaking, this can help you to adapt in the modern world, and keep pace with the changing journalism industry.
Katherine specifically recommends science fiction because it speaks to the libertarian ideology.
Libertarians are the people who ask, "does the world have to be the way it is right now? Why isn't it different?" And that's what science fiction does… I'm obviously a big science fiction nerd, but really anything that offers you a world that is different than the world that you live in. And for some people, that is what history or biography will do. But I think that fiction has a particular power over the young mind.
Books that Katherine specifically recommends for students include The Fountainhead by Ayn Rand, The Moon is a Harsh Mistress by Robert Heinlein, and The Collected Stories of Vernor Vinge.
The February 2012 edition of Reason Magazine, a special edition all about the privatization of space exploration, featured a special reading list compiled by science fiction author Gregory Benford.
Reason Magazine is currently accepting applications for summer and fall internships, find information about applying here. Make sure to follow Reason Magazine and Katherine Mangu-Ward on Twitter.
___________________________________________________________________________________________

Jacqueline Otto's shelves at home are lined with used-book store finds; just a few of her favorite authors include C.S. Lewis, J.R.R. Tolkien, H.G. Wells, Orson Scott Card, Ray Bradbury, Jules Verne, and George Orwell.
She first read F.A. Hayek and Frédéric Bastiat at 16. Her political affiliation on Facebook is "Freedom," and she hopes to always be known as a lover of liberty.
Jacqueline is on Twitter at @jacque_otto.