Wolf: The Lives of Jack London
James L. Haley, Basic Books, $17.99.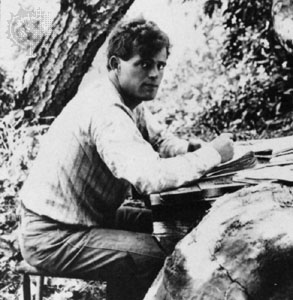 Nathaniel Hawthorne wrote facing a wall. He found his window to the cold meadows and deep forests of Massachusetts too distracting. Edith Wharton wrote in bed. I always picture her draped in white sheets, bed covers, and thin, lacy shawls—far removed from the dingy sadness in which she dipped every word and phrase. In Wolf, biographer James L. Haley describes the many lives and    places from which Jack London (1876–1916) drew ink to scrawl his tales—the only desk you'll see London sitting at is on the cover.
London (Johnny, as he was first called) wrote on the run, penning his first 2,000 words after two sleepless nights, with an eighth grade education under his belt and the rolling crash of the ocean echoing in every phrase. He was only seventeen, but he had seen typhoons off Japan, fought in drunken dockside brawls, and worked on ship decks slick with blood from the day's catch. Later, when he had moved from captain to editor, when his muscles had softened and the hard lines of ship's labor had faded, London would make a habit of putting down 1,000 words a day.
After a childhood of paper routes and factory labor canning pickles, Jack was drawn to the working waterfront as many young men are to a horizon uncluttered by the man-made fuss of modernity. For  London, a working dock was the bridge to a future far from mindless labor and meager wages, which he had to hand off to his mother or his listless father. But the dock was also an intoxicating link to  the past, bearing a long history of the heavy step-falls of working men over water's edge.
The working waterfront was, and still is on some coasts, a visceral connection to the uncontrollable. It is where the sea pounds, cuts through and rips to shreds the tight bolts, wound bobbins, and machine stitching that factory workers toil to produce. It was on the waterfront that London made the first of what would be many escapes into the unknown—rudderless and drunk half the time, but certain, as his work testifies, that many a good adventure begins at sea.
Learning to sail in the San Francisco bay, London turned to oyster piracy in the inlets of Oakland. He quickly became an expert at robbing from seeded sea-beds of Atlantic oysters in the dead of night, relying on the darkness of new moons. It was dangerous work. Later, London would return home from hunting gold in the Yukon to find his former partner in crime shot to death by the police for poaching. But it was good money. The cultured beds of highly valued imported oysters were planted on privatized ocean floor, carved out from public Pacific oyster foraging grounds that local fishermen used to supplement their incomes and make ends meet. With the abrupt change in ownership and access to these valuable sea-beds, London gained experience in the world of fisheries on issues that still echo in the chambers of management councils and on the pages of publications like The Working Waterfront today: Who owns the sea and who gets to fish there?
*  *  *
With his work as an oyster pirate, London gained access to a world he came to love best—a world of rugged individuals who valued strong character and demanded proof of it. Over the years, London would seek out similar circumstances—whether in Korea or on the newly built trans-continental rails with fellow wanderers and self-designated hobos. Jack was most comfortable among vagabond men.
London's life at sea was initially confined to work on small sloops: the Razzle Dazzle (destroyed in a fire set by rival oyster pirates) and then the Reindeer (first as an oyster pirate and then as a recruit of the Fish Patrol, enforcing the very fisheries laws he had learned so well to dodge). These jobs led London to a spot on the Sophie Sutherland, a high seas sealing vessel. On board, London soaked in copious amounts of alcohol, and gathered material for what would ultimately become The Sea-Wolf. The words emerged from the drenched decks of the Sutherland, passages of carnage that defined these floating slaughterhouse factories of the late 19th century.
He spent seven months before the mast, traveling to Japan and back, battling high seas storms and a near fatal case of the shingles. London returned home from hunting seals to find his family close to ruin. This was to become a common theme in the narrative of his short life. From the sea, or from jail, from the sweltering Solomon Islands or from the freezing mountains of the Yukon, where he had joined the Klondike Gold Rush, London would return home to find his family in dire need of an income that only he could provide, and had provided since the age of eight. It was adventures, in combination with the heavy albatross of family duty, that led London into the fray, even when he faced punishing consequences.
Having lived so hard that his teeth were falling out of his head by the age of 19, London had no shortness of experience to write from, nor any lack of a drive to succeed. Hunger stalked him at every turn, and his sister badgered him to give up the ambition of authorship for more immediate money, imploring him to enter the U.S. Postal Service or return to the factory. Knowing what giving up would mean—hours of hard labor for a small paycheck—London was driven to produce thousands on thousands of words a day.
By his early twenties, as sure as a sailor is of wind, London was resolute on becoming an author. It took three more years, and literally piles of rejection letters or no responses at all, but by 23, he had received his first piece of fan mail and his journey began. While youth was still in him, and while words could not yet give him regular meals and a warm bed, the call of the wild outweighed any other drivers in London's life. His initial labors convinced him he was an inveterate writer, but they by no means domesticated him.
In 1894 he landed in jail as a "Tramp": an idle person without employment, first criminalized by the state of New Jersey seven years after the completion of the trans-continental railroad. In his cell, he found himself surrounded by walls moving with bed bugs and, with the help of his cellmate, attempted to keep the creatures out by chewing hard bread into mortar to seal the cracks in the cement. In later years, he would find his way into such hellholes by choice, disguising himself as a homeless man in London to gain access to poor houses and charitable hospitals in order to complete The People of the Abyss.
*  *  *
If his youth was filled with adventure, his adult life was filled with trying to write his way back there, either through memory or through journalistic assignments that took him to foreign cities and into the midst of the Russo-Japanese War. He rushed into the rubble of the 1906 San Francisco earthquake to chronicle an eyewitness account of the disaster.
Everywhere he traveled, he brought his camera, producing more than 1,200 photographs in his lifetime, many of people and places his fellow Americans had never seen before. Later, when imagination was his only tool of transport, through research into the lives of wolf packs to develop what would become perhaps his most well-loved story, White Fang.
At his best, London's writing bears no mark of a tidy writer's desk. Picturing him hunched over a Blickensdorfer typewriter is like picturing a wild horse chained to a table set for high tea—or like watching any weathered man sit at a computer these days. Trying to fit into the width of a keyboard large, masculine hands, ruddy-brown and salted by ocean voyages is a painful sight at worst and comical at best. London, I prefer to picture in all the places that did not involve a tabletop and typewriter.
And, as with any man that leaves a mark on this world so indelible that it echoes and re-echoes through the minds of new generations that were not born when it was made, I prefer to think of London at any point in the timeline of his life before celebrity, before piles of correspondence with the public imprisoned his prose and stayed his creative endeavors. It is the choking and unfortunate truth of every public figure that the moment he gains some height in this world, inevitably he will get mail, and be expected to respond in kind. This inevitability was no different in the case of Jack, and he insisted on fulfilling his epistolary duties, to the unfortunate detriment of his creative ones.
But, fortunately for us, every man who writes leaves pieces of himself in his stories. If you want to learn about Jack London, Hayes's book is a good start and will take you through a timeline of London's treks and prismatic ventures into the American frontier. But if you want to get to know Jack, read him in The Sea-Wolf, or The Cruise of the Dazzler, or The Call of the Wild, or the many other books he wrote of adventure, penned with his mind far from the quotidian desk and cumbersome typing machine at which he laid down a record of the many lives of Jack London.
Hannah Dean received her M.S. from the University of Massachusetts, Boston, in Environmental Policy and Law with a focus on ecosystem regime-building and jurisdictional boundaries in the Gulf of Maine. She received her JD from Boston University and is a member of the Bar in Massachusetts. She is currently a fellow in a Congressional Office, seeking ways that federal policy can work for small businesses and industry so that we can grow ocean and coastal economies around the nation.